Christoph Hartmann"Reed Geek is the perfect complement to my other reed tools. Its refined edges offers numerous scraping and profiling options, which allow for even more precise work. Being able to carry it in your hand luggage while flying, is an indispensable companion on concert tours."
The DoubleGeek line of handled tools and tips:
Useful for all woodwind players
Perfect for students, school and travel safe
Interchangeable handle options for complete control
Effective on both natural cane and synthetic reeds
Black Diamond wear finish for refinement of cut
100% American Made

(Photo: Peter Adamik)
Martin Kuuskmann"ReedGeek tools have been a steady companion on my global travels for the past 6 years. The ReedGeek tools, at least for me, are the ultimate reed finishing tools for a globe trotting musician like myself."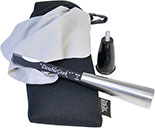 ReedGeek's "DoubleGeek" GEN2 Set
In addition to implementing the wildly successful Universal tool's features, the GEN2 set is engineered with two oversized bevels allowing double reed players to fine tune reed spines, corners & tips with efficiency and ease (12 unique cutting surfaces in all). Like the G4, the DoubleGeek GEN2 is available in our Black Diamond wear finish providing refinement of the cut on both natural cane and synthetic reeds. The GEN2 set is encased in a deluxe, proprietary neoprene bag with a sewn-in microfiber cleaning cloth, a water tight case. For added leverage and familiarity in the hand the set includes a 3 inch stainless steel handle and a small black palm handle, both threaded for easy attachment to the DoubleGeek.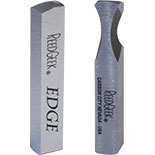 Limited Edition: ReedGeek Edge & Curve
These revolutionary 'Geek tips provide the reed worker unique scraping edges and bevels that provide a very direct cut and remove cane both rapidly and smoothly without chatter. They are excellent for shaping and profiling oboe and bassoon reeds before using your DoubleGeek for ultra-fine finishing. Both tips include the front pencil eraser scraping and blending tip. The Curve is truly unique in that it possesses two pronounced and varying shaped side scraping bevels for spine and channel profiling. Both tips affix to any standard ReedGeek threaded handle. Combo kit includes both tips, tall stainless and black bob handles, and neoprene bag and case.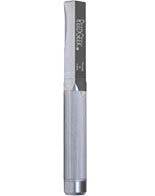 The "Bullet"
ReedGeek's newest and most advanced tool to date, offers its user ground breaking advances to reed adjustment and maintenance. It is the most effective tool for the adjustment of synthetic polymer reeds, both single and double, not to mention its effortless cut on natural cane. Utilizing advanced aerospace diamond-like alloys, the ReedGeek bullet exhibits an edge of 94 RC hardness and is machined to tolerances closer than virtually any reed or woodworking tool on the market today. This precision allows double reed players to adjust tip contours to achieve maximum vibration without damage to the reed or its tip. With a built-in shank file, for burnishing and smoothing, every surface of the Bullet can be used for great efficiency. A stand alone, handle-less tool.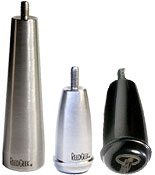 Interchangeable Handles
Interchangeable handles are available for all DoubleGeek threaded tools to provide various leverages depending on your needs.
CAUTION: Like any reed tool, the ReedGeek's edges are sharp. Please handle with care, and use as directed.