Legends, Artists & The Next Gen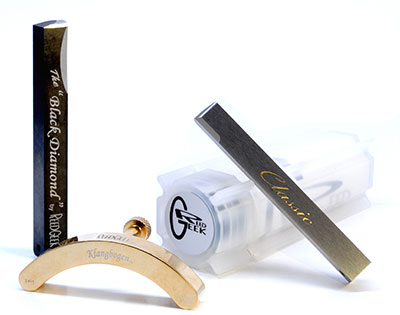 Used by the world's top woodwind players.
ReedGeek is very appreciative of, and excited by, the many endorsements we have received from players of all abilities all around the globe. We are grateful that we can be a part of allowing musicians the world over to create the music that is in their heart.
When The Art of Better Reeds Meet The Artist:
"It's the only reed tool that's ever worked for me."

David Sanborn

"This is not just a product, it is a system, one that really works. The philosophy is quite simple: The sound begins at the Reed. These tools along with a working knowledge of how to use them, quickly allow me to make each and every Reed in a box, play great! Even old reeds can be reworked, and made useable again. With the average Box of Reeds costing $35-$40, not using every one in the box, is fiscally irresponsible. From an economic standpoint? These tools are invaluable!"

Adam Niewood

(Photo: Alex Troesch)

"After years as a professional saxophonist, it's amazing to finally have a tool that makes working on reeds so simple, efficient, and convenient. Thank you, Mauro, for creating the ReedGeek!"

Arun Luthra

"Love the Klangbogen. My sound is more centered and it is easier to articulate."

Baron Raymonde

"If you're going to compete, then you're gonna need a 'Geek. "Finest Reed" adjustment tools ever made!"

Bob Magnuson

"... makes working on reeds very convenient and easy. Mauro, thanks a million for designing such a practical reed tool."

Bob Mintzer

"You need to hear it and feel it to believe it!"

Bob Sheppard

"... every reed plays more evenly throughout the entire range of my instruments and the reed's lifespan is significantly improved ... a beautiful tool that every saxophonist and clarinetist should own."

Brian Landrus

"Reed Geek is the perfect complement to my other reed tools. Its refined edges offers numerous scraping and profiling options, which allow for even more precise work. Being able to carry it in your hand luggage while flying, is an indispensable companion on concert tours."

Christoph Hartmann

"Like most great ideas, the simplicity of your design is pure genius."

Clark W. Fobes

"One of the cleverest tools I have ever seen; the ReedGeek has an incredible amount of uses, which can be done quickly, even on the bandstand. Great product!!"

Dave Liebman

"The Universal ReedGeek recently saved a performance out west. Miami is humid and some parts of the west are brutally dry. As a result, the Universal saved the day and allowed me to make music regardless of the environment. I love the Klangbogen and its immediate improvement of the overall sound. Thank you ReedGeek!"

Dr. Ed Calle

"We are all Reed Geeks and always will be, as long as we love tone ... so go get a 'Geek'"

Eddie Daniels

"Using the new one-piece on Bass Clarinet, and the regular gold onstage at Subset Boulevard. I love the one-piece!"

Eddie Sulkin

"It is my favorite reed tool ever in forty years of playing. Nothing else even compares."

Euge Groove

"I must sincerely thank you again for all you've done and continue to do to help us woodwind players with your tireless efforts in making our lives easier with both your REEDGEEKS as well as your KLANGBOGENS."

George Young

"Being a vintage player personal sound is everything to me. To be able to tweak any reed old or new and get that personal sound that i want on my horn is everything. The reedgeek is the tool to do that"

Glenn Zottola

"... no product ... comes close to matching the ReedGeek's versatility and effectiveness. I stand behind it 100%."

Greg Osby

"The Reed Geek does everything a reed knife does and much more; a must have product for any student or professional reed player."

Gunnar Mossblad

"The Klangbogen does so many great things for my horn. The middle register pops more, the entire horn plays more evenly, my low and and high notes are fatter, the altissimo is more settled and there's a certain "vibe" it imparts that I just have to have from here on out. I also find it's easier to play time--the notes seem to sit in their slots easier making me free to play on my own terms. The various finishes all have their own thing so it's a great tool to really dial in your individual sound. I highly recommend these amazing devices to any serious saxophone player."

Ian Hendrickson-Smith

"The ReedGeek has made every reed playable! It has quickly become the most valuable tool I use."

Jeff Kashiwa

"Mauro Di Gioia's Reed Geek is a game changer. I'm able to get superb response and sensitivity in tone out of all of my reeds. For years I had been thinking that the mouthpiece is more of a variable than perhaps it really is... being able to effectively adjust reeds has been eye opening for me. Thanks so much Mauro!"

Jeff Rupert

"Creating a beautiful sound every time you pick up your instrument comes first and foremost. Both the ReedGeek and the Klangbogen allow me to get to that space no matter the acoustics of the room or how my reed is dealing with the climate. First they give me more consistency with my reeds and my horn, and second it allows me to make tiny adjustments that help me focus my sound no matter the situation."

Julius Tolentino

"It don't mean aThang if you ain't gotta Klang!"

Lou Marini

"ReedGeek's Klangbogen transforms, focuses and liberates my sound, harmonic resonance and brilliance of my horn."

Mark Fox

(Photo: Karl J Kaul)

"ReedGeek tools have been a steady companion on my global travels for the past 6 years. I never remove them from my case nor do I need to use anything else to scrape both by cane and Legere reeds with. I sincerely believe every reed player should at least own one — they will benefit hugely by having a ReedGeek tool as part of their 'tool artillery'."

Martin Kuuskmann

"What an amazing tool. No reed player should be without it. Wish I had this thirty years ago. Would have saved a lot of reeds and years of aggravation."

Mike Smith

"The ReedGeek is amazing... You've made our lives easier and for that I thank you! It's life changing fo sure."

Mindi Abair

"The ReedGeek is an indispensable part of my routine for breaking in and maintaining my reeds. I use it after every practice and playing session. It is an invaluable tool and will help every serious reed player refine more good reeds and optimize their performance."

Nelson Rangell

"I'm happy to endorse the Reed Geek. It's been a game-changer in terms of getting the majority of my reeds to play well. I find it much easier to use than a reed knife, and it's more portable so it fits easily inside my instrument case. I've had several of my students purchase the Reed Geek, and I strongly recommend it for any serious student or professional."

Nick Biello

"It's unbelievable what the

ReedGeek

can do to your reed! Mauro took a reed that was barely playable for me and transformed it to one of my best reeds ever in just seconds! Apart from making it super stable AND responsive across the whole range, it was really easy to play and most amazingly — it lasted for longer time than my usual reed. The

Klangbogen

is truly something you have to see in order to believe it. I was a bit sceptic before trying it, and boy was I wrong. This is a mindblower! It feels like I have a boost added to my horn, making it feel like 'riding' effortlessly and fluently across the whole range with tons of presence. It also stabilised more my control over the altissimo range and added powerful sub-tones to my lower end. The buzz it's creating is enriching the overtones and the whole horn just feels so powerful, yet flexible! It's like having an acoustic pre-amp to your horn."

Omri Abramov

"The ReedGeek tool is a vital accessory for every woodwind player. The potential to optimize and increase the longevity of your reeds can be achieved with the knowledge of a few basic premises about working with cane."

Rick Keller

"I love my gold plated Klangbogen!!! Adds another dimension to my sound and to the response of my Baritone Saxophone and Bass Clarinet."

Roger Rosenburg

"Do yourself a solid and check this out! It is a game changer for reed prep. ReedGeek IS "the business"."

Ron Moton

"It's awesome what you can do with that ReedGeek. Evens the horn from bottom to top... Man, every woodwind player needs to buy one!"

Steve Wilkerson

"The ReedGeek is the best reed tool ever!"

Tim Price

"I'm out on the road constantly and the ReedGeek has made my reeds play better, longer, and more consistently; not to mention being able to keep it in my case while getting through TSA!"

Tom Politzer